DIY Apple Cinnamon Ornaments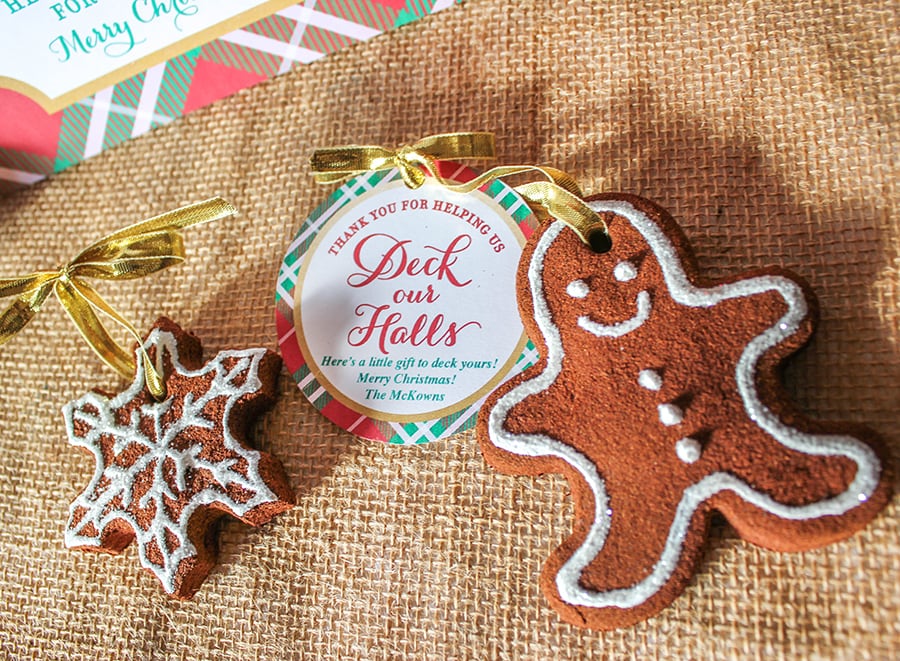 Recipe type:
Craft - not edible
1 cup Applesauce
1¼ cup Cinnamon
White Craft Glue
Parchment Paper
Decorative Ribbon
White Puff Paint, Glitter or Paint of your choice (optional, for decorating)
Combine the applesauce and cinnamon in a large bowl
Next, add a few drops of white craft glue
Place your dough mixture on a piece of parchment paper and begin rolling out with rolling pin. (Tip: To keep the dough from sticking to the rolling pin and paper, sprinkle cinnamon on work surface first.)
To smooth dough even more, place a second sheet of parchment paper on top of dough and roll out with rolling pin.
Using cookie cutters of your choice, start cutting out shapes for your ornaments.
Place ornaments on a parchment-lined cookie sheet.
Using a straw, poke a hole in the top of each ornament.
Bake in a 200 degree oven for 2.5 hours.
Allow ornaments to cool completely on a wire rack.
Once cooled, thread a ribbon through the hole in the top of the ornament. Then, decorate with white puff paint, glitter or paint of your choice.
Recipe by
Just Add Confetti
at https://www.justaddconfetti.com/christmas/deck-the-halls-tree-trimming-holiday-party/