Mrs. Claus's Kitchen Sink Cookies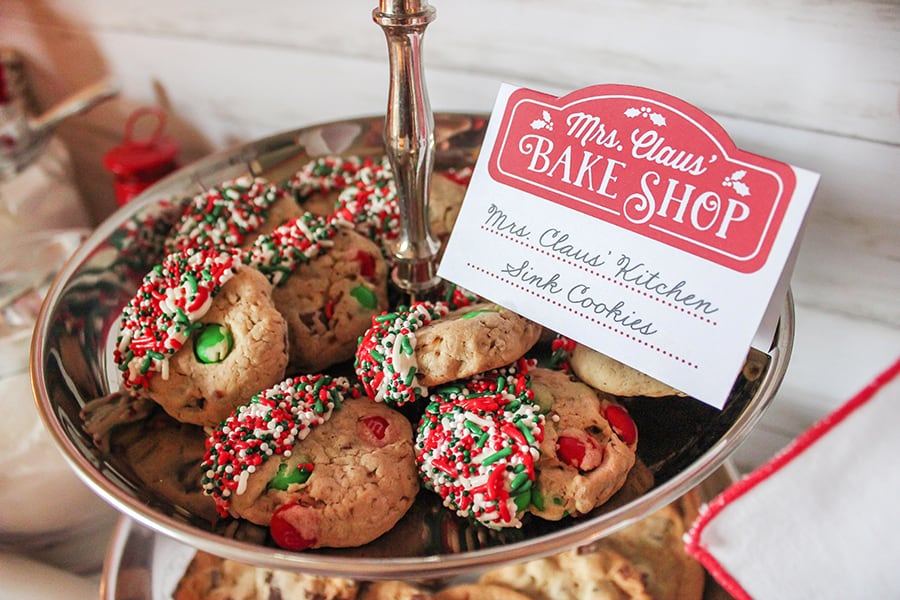 ½ cup Country Crock® Unsalted Baking Sticks
½ cup Brown Sugar
¼ cup Sugar
1 teaspoon Vanilla Extract
1 Egg and 1 Egg Yolk
1 and ½ cups Plain Flour
½ teaspoon Baking Soda
1 teaspoon Cornstarch
½ cup Dark Chocolate Chips
½ cup Pecans, chopped
½ cup holiday (red and green) M&M's
½ cup Pretzels, crushed
White Chocolate (for dipping)
Holiday sprinkles (for sprinkling or rolling in dipped white chocolate)
Preheat the oven to 350 F. Line two cookie trays with parchment paper. In a large mixing bowl, combine the Country Crock® Unsalted Baking Stick, sugar, and brown sugar
Beat Country Crock® Unsalted Baking Stick and sugars with an electric mixer until light and fluffy.
Then, add the vanilla and eggs and beat until smooth.
Next, combine flour, baking soda, and cornstarch into the mixture. Use electric mixer to form the smooth dough.
Add chocolate chips, pecans, M&M's and pretzels to the dough. Use electric mixer to combine everything into the dough.
Use a heaping tablespoon to scoop the dough and roll into balls. Place each dough ball on your prepared cookie tray and slightly flatten each ball. Leave room for the cookies to spread out.
Bake for approximately 10-11 minutes or until golden brown. Transfer to a wire rack to cool completely.
Next, melt white chocolate for dipping.
Once the cookies have cooled, dip the edge of each one in the white chocolate.
Then, dip the edge into holiday sprinkles. Allow white chocolate to dry fully before packaging or storing.
Recipe by
Just Add Confetti
at https://www.justaddconfetti.com/christmas/mrs-claus-bake-shop-cookie-exchange-party/