The Best Apple Pie Recipe — Perfect for 4th of July!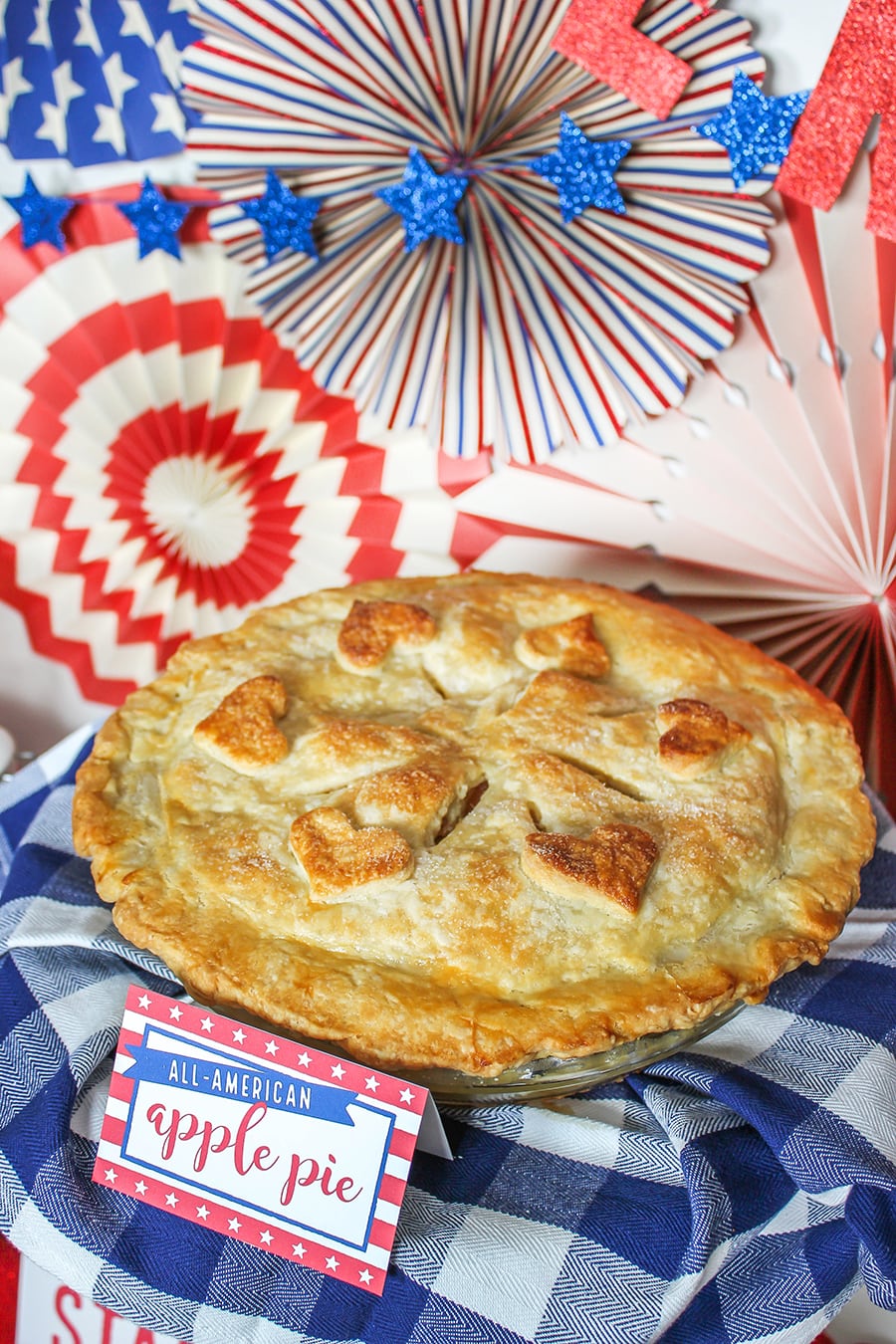 8 - 9 Granny Smith apples peeled and thinly sliced (I use a mandoline slicer)
1 cup sugar
2 Tablespoons flour
1 teaspoon cinnamon
¼ teaspoon salt
⅛ teaspoon nutmeg
2 Tablespoons lemon juice
Pads of butter
1-1/2 Tablespoons cornstarch
Small amount of milk and sugar
In a large bowl combine sliced apples with lemon juice. Add all other filling ingredients and toss lightly.
After thoroughly mixing, place apples in a colander to drain the cinnamon sugar mixture. Retain ½ cup of this juice mixture. (This will later be used on top of the apples once they are placed in the bottom pie crust-lined pan.) Next spoon the apple mixture in the pie crust-lined pan. Add 1-1/2 Tablespoons of cornstarch on top of apple mixture.
Spray a microwavable measuring cup with non-stick spray and add the ½ cup cinnamon sugar mixture and 2 Tablespoons cubed butter. Boil the mixture for 8 minutes in microwave to reduce to ⅓ cup. Drizzle this sticky mixture on top of the apples.
Place pads of butter on top of filling and then add top crust.
Cut 6 - 8 small slits in the top crust to release steam.
Spoon a small amount of milk on the top crust and sprinkle with sugar.
Use a pie shield to protect the edges from becoming too brown.
Bake in a preheated pan lined with parchment paper.
Bake at 425 degrees for 10 minutes and then reduce the temperature to 350 degrees for 45 - 55 minutes.
Recipe by
Just Add Confetti
at https://www.justaddconfetti.com/free-printable/apple-pie-recipe/