Bluey Backyard Birthday Treat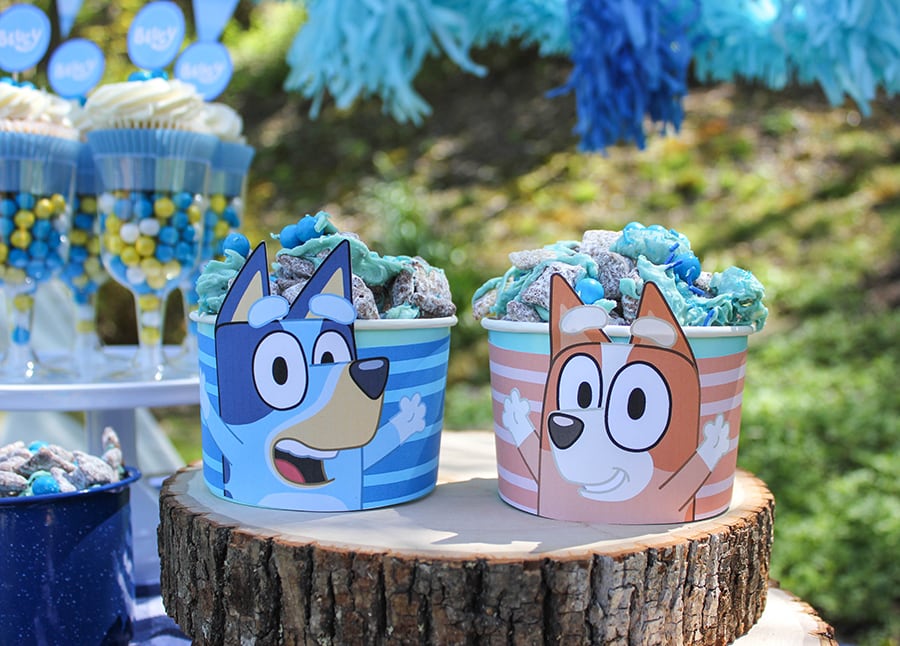 9 cups Chex Cereal
1 cup Semi-Sweet Chocolate Morsels
½ cup Peanut Butter
¼ cup Butter
1 tsp. Vanilla Extract
1½ cup Powdered Sugar
½ cup Blue Sixlets
½ cup White Chocolate Chips
Blue Food Coloring
Blue Sprinkles
2 Gallon Ziploc Bags
First gather all ingredients and measure 9 cups of Chex cereal in a large bowl and set aside.
Mircowave chocolate chips, peanut butter and butter on high for 1 minute and stir. Microwave another 30 seconds, or until the mixture stirs smoothly. Then, stir in vanilla extract.
Pour mixture over the Chex cereal, stirring until evenly covered. Then, divide the cereal in half and put it in two gallon Ziploc bags. Then, pour powdered sugar into the bags, seal, and shake.
Melt white chocolate chips and stir in blue food coloring. Spread the cereal mixture on baking sheets and drizzle blue chocolate over the cereal. Add blue sprinkles and Sixlets. Store in refrigerator.
Recipe by
Just Add Confetti
at https://www.justaddconfetti.com/birthday-party/bluey-backyard-birthday-party/